Educational Program Rates
Large group (10-20 people):
1 program (tour/workshop): $80
2 or more programs (tours/workshops): $70/program
Small group (1-9 people):
1 program (tour/workshop): $70
2 or more programs (tours/workshops): $60/program
Extra-Large groups* (>20):
2 or more programs: $70/program
*Extra-Large group options: Are you coming to the PME with more than 20 students in your group? Here's what we suggest you do:
Split your group into two smaller groups.
Book two back-to-back programs.
While the first group participates in a workshop, the second group can either:
Participate in a guided tour ($70)
Participate in an OmniGlobe experience ($40)
Do a self-led scavenger hunt (FREE)
Explore the museum displays (FREE)
Take a break to each lunch outside (FREE)
All program costs include taxes. Workshops consist of a one hour hands-on workshop taught by one of the PME's Education Leaders. Guided tours of the PME last for one hour. The maximum group size for all workshops and tours is 20 students, not including teachers or supervising adults. The PME requests that school groups have at least one adult for every ten students and that teachers and supervising adults remain with their group during workshops and tours.  Please arrive at the PME fifteen minutes before the start of your scheduled program. Groups who arrive more than twenty minutes late may not be accommodated. The PME accepts cash or cheques, made out to The University of British Columbia. Unfortunately, we cannot accept payment by credit card at this time. We apologize for the inconvenience.
Workshop and Tour schedules
The PME offers workshops and tours weekly on Tuesday, Wednesday, and Thursday (5 time-slots each: 10:00am, 11:00am, 12:00pm, 1:00pm, 2:00pm). All workshops and tours begin on the hour. Please plan to arrive fifteen minutes before the start of your scheduled program.
Please note we are CLOSED on Remembrance Day and all other statutory holidays, and CLOSED during the UBC holiday 22nd December to 3rd January.

We are taking bookings for November and December now! Bookings for January will begin in December. The following dates are available for booking –
Tuesdays,  November 29, December 6, 13
Wednesdays, November 30, December 7, 14
Thursdays,   December 8, 15
Tuesday Special: Earth Experience: The Pacific Museum of Earth and the Beaty Biodiversity Museum have joined forces to offer tours and programs to complement your science curriculum. This is a special program with limited availability. Programs are available every 1st and 3rd Tuesday starting in October 2016. 

click here to book an Earth Experience tour now

!
Booking Information
Once you've completed our online booking form (please fill out ONLY one form per booking request), wait for a response from the Outreach Program Coordinator. Due to high volume of incoming requests, responses may require up to five days.
Booking confirmation
Once your booking is confirmed, you will receive a confirmation email and booking invoice from the Outreach Program Coordinator. All schedule changes made after this point will incur a $15 rescheduling fee. Please note your invoice number on cheques.
Booking cancellation
All booking cancellations must be made two weeks prior to your scheduled visit. Cancellations made within two weeks of a scheduled booking will incur a $30.00 cancellation fee, payable by cheque and mailed to the PME.
Arrival time and meeting location

 
To ensure an on time start to your tour or workshop please arrive at the PME fifteen minutes before your scheduled booking. An Educational Leader will meet your group in PME's central gallery by the Lambeosaurus, located in Earth and Ocean Sciences Main building. Please visit our Directions page for information about getting to the PME. 
Food, drink, and photos
Food and drink are not permitted in the museum during workshops and tours. Flash photography is not permitted in the PME.
Contact information
Dr. Lucy Porritt | Outreach Program Coordinator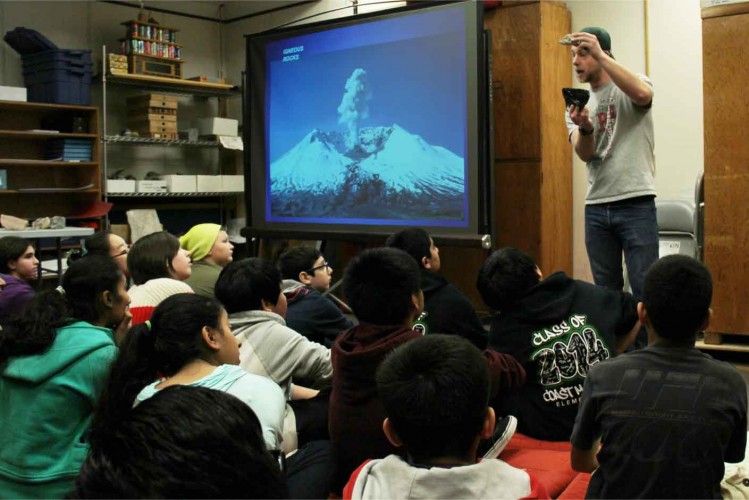 Image by Derek Tan